MAGNET's ECEC Project Demonstrates How to Connect Students to STEM Education and Careers and Transform STEM Education-to-Workforce Ecosystem
By: Nina de las Alas and Kavita Mittapalli, MN Associates, Inc.
Ethan Karp, Matthew Fieldman, and Autumn Russell, MAGNET
The Early College Early Career (ECEC) (Award no.1763558)  provides insights into how to increase high school students' interests, motivations, and capacities to pursue STEM learning and careers through an innovative, work-based learning program. The ITEST project (2018-2021) draws on its experience working with partners in advanced manufacturing industries, community colleges, and high schools in Northeast Ohio to provide students, particularly those from low-income communities who are underrepresented in STEM fields with a foothold and a running start in advanced manufacturing through career and technical training with pathways for postsecondary education and career advancement. 
How is your ITEST Project impacting youth?
The ITEST Project is based on MAGNET's prior work in workforce development that has showed how high school students, particularly from communities underrepresented in STEM postsecondary education and careers grew in awareness, motivation, knowledge and skills when given opportunities for hands-on learning through paid internships in advancement manufacturing industries. Along with the paid internships, the ECEC program provides career awareness in advanced manufacturing for 9th and 10th grade students and an array of supports for cohorts of students of accepted into the program starting in the 11th grade including
Up to 15 earned credit hours from participating community college partners

Earned industry-recognized credentials such as OSHA-10

Coaching on college and career readiness and social soft skills, and 

Mentoring from veteran industry workers at their internship sites.
Moreover, students who successfully completed the program have the opportunity to join their interning company full-time after graduating from high school. To date, 27 students are enrolled in the project and are currently engaged in paid internships across the greater Cleveland area.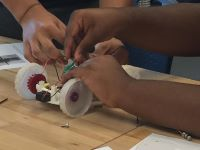 What excites you most about the work you do every day?
ECEC data shows how a well-designed and well-implemented program can have a transformative effect on a student's life trajectory in dollars and sense. Many high school students and their families are not aware of how many manufacturing companies in the greater Cleveland metropolitan area are eager to hire and replenish their aging workforce. These are well-paying jobs with many opportunities for career advancement.
ECEC also helps dispel myths. High school students participating in industry site tours are amazed that today's industry workplaces resemble clinical laboratories more than their grandfathers' smelly and dingy backroom shops.
Students also learn that there is more than one pathway to a fulfilling life besides going into debt at a four-year college and university. Dual enrollment while in high school and tuition reimbursement while working full-time allows students to fund their postsecondary education and achieve their dreams practically debt-free.    
What do you think is the most important learning in this area based on your project work to-date?
Partnership is foundational to the project's work. Presentations, industry site tours, and paid internships would not be possible without the continuous and active engagement of the industry partners. Community colleges have helped tailor existing classes to high-school students' need for more hands-on learning that work into their high-school schedules. High schools have helped in identifying potential students into the program. MAGNET's coordination, outreach, and fund-raising efforts has brought everyone to work together and prepare high school students with little or no workplace experience to become college and career-ready. 
What strategies have you found most effective for sharing your project's work and findings with broader audiences?
Wide outreach and communication have been critical to broadly share ECEC's work. This includes both standard, industry, and community channels. ECEC has presented in NSF's 2020 STEM for All Video Showcase and at Cleveland business leaders forums, and featured in local television news stories. Especially during this time when COVID-19 has curtailed some of the ECEC's programming, communication to the broader community keeps the ECEC relevant and in front of people's eyes. 
Check out MAGNET's ECEC Project's video and their website. 
About:
MN Associates, Inc. (MNA) is a woman owned, research and evaluation firm based in Northern Virginia with clients across the country. MNA is headed by Kavita Mittapalli, Ph.D. who is supported by a team of five researchers and evaluators. MNA is the researcher on the NSF's ITEST ECEC grant. To learn more about ECEC's ongoing research work, please contact kavita@mnassociatesinc.com
Image