Project Spotlight: Teaching for Equity in Appalachia in Mathematics and Science
NSF's ITEST and Noyce programs both focus on improving STEM education by exposing, immersing, and engaging students and educators in varied educational settings. This month we explore Appalachian State's Teaching for Equity in Appalachia in Mathematics and Science (TEAMS) Noyce Project's work in STEM engagement, teacher preparation, and workforce development in rural settings. 
By Tracie McLemore Salinas, Ph.D. Appalachian State University, with Kavita Mittapalli, Ph.D. and Nina de las Alas, MN Associates, Inc.
How did you get started working in the area of STEM engagement and workforce development?
I grew up on a farm where what is called STEM in formal schooling is just day-to-day knowledge. I wasn't finding my school experiences and home experiences were ever connected. There was also little to no recognition at school for the kind of knowledge that my father and grandfather had. Eventually, I was drawn to the work of STEM engagement and workforce development as a way to bridge the divide between formal schooling knowledge and the less tangible cultural or experiential STEM knowledge that is in every community in some way. The Robert Noyce Scholarship program was a perfect fit for continuing that work in that it allowed us to prepare teachers for teaching in environments where engaging local STEM knowledge was particularly valuable.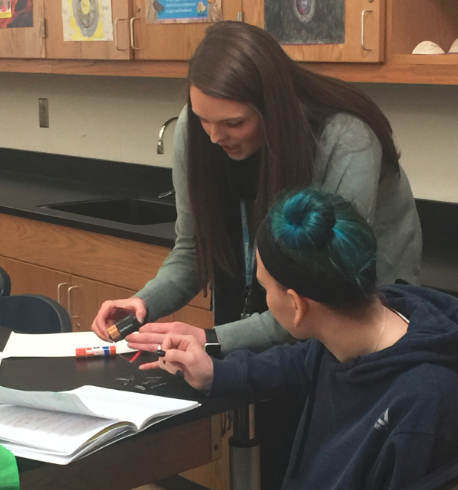 What do you think is your most important learning in this area based on your project work to-date?
In our Noyce project, we saw what success the Department of Physics and Astronomy had, not just in recruiting but also in motivating research projects with licensure candidates. The department utilized an instructional assistance course to spark curiosity and interest in teaching and then focused students' inquiry into pedagogical projects. This approach worked so well that our numbers in physics licensure, which had been near zero for at least five years, promptly increased to a fairly steady rate of 1-2 physics teachers produced per year. Additionally, we observed how helpful it was for our Noyce Scholars to be in clusters at the same high schools. Connecting mentoring teachers with beginning teachers and current licensure candidates created very powerful collaborations.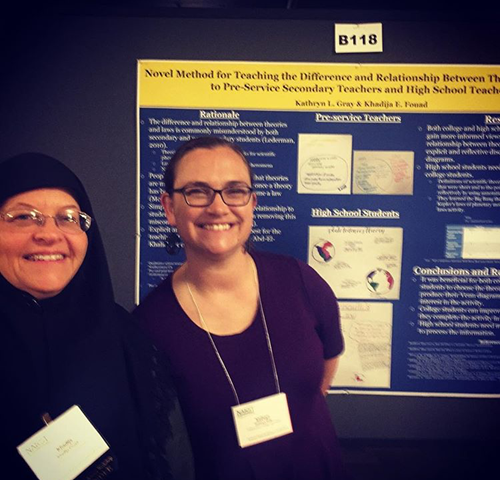 Based on your experiences, what kinds of STEM experiences support student competency, motivation and persistence?
It isn't a surprise that students interested in STEM disciplines enjoy hands-on applications and explorations. For future STEM teachers, hands-on applications can also be pedagogical in nature. We saw our Noyce Scholars build their competence and motivation by beginning to see themselves not just as users of best practices but also as contributors to them. Mentoring STEM teacher candidates through pedagogical research projects and conference presentations was key to growing their STEM leadership and preparing them for opportunities for professional development that are so vital to teachers' continuous improvement. Through the grant, Noyce Scholars attended and/or presented in national conferences (e.g., Noyce Summit and the National Association on Research in Science Teaching, and Annual International Conference) and in regional conferences (e.g., North Carolina Sector of the American Association of Physics Teachers (NCS-AAPT)). The Noyce Scholars have presented on topics that range from using VPython to teach high school physics and reflections on the first years of a high school physics teacher, to how showcasing students' work acts as a vehicle and extension of mentoring and professional development.
When the COVID pandemic curtailed travel and conferences became virtual convenings, Appalachian State University developed its own virtual summit, IDEA-CON 2020, in July 2020. IDEA-CON included recorded and live sessions and provided professional development along the student-practitioner-educator continuum.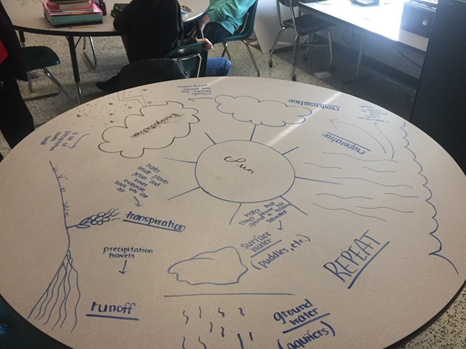 What strategies effectively engage principals, guidance counselors, and other school system administrative leaders to promote students' and teachers' adoption and effective use of technologies in rural settings?
The pandemic has supercharged the adoption and use of instructional technologies across the country, including for our Scholars who were in field experiences, often in rural communities. At the onset of the pandemic, teachers were developing their lessons just as quickly and at times concurrently with school and district officials who were developing and releasing policies and guidelines on instructional technologies. As with many instructional decisions, selecting appropriate technology can benefit from having a common framework, such as the TPACK framework, for orienting technology use within the context of content and pedagogy.
For Noyce Scholars and fellow educators, access to technology in the form of broadband internet connectivity and computing devices (i.e., desktops, laptops, or tablets) and experience working with instructional technology hardware and software play significant roles in the teaching and learning experience. Equity quickly becomes an issue for classroom students and teachers alike.
Through its coursework for prospective teachers, ongoing professional development for teachers, and seminars for student teachers, Appalachian supports capacity development in applying frameworks such as TPACK to help school and district leaders make technology decisions while providing teachers a means for evaluating and applying technology tools at the classroom level. Through the partnership between the university's College of Arts and Sciences (represented by content consultants) and the Reich College of Education (represented by clinical supervisors), the Noyce Program was a resource and clinic for distance learning pedagogies.
During their internships, Noyce Scholars have learned to quickly adopt multiple approaches and adapt different types and levels of instructional technologies that best fit the needs of their students. They also learned how to address social emotional health and wellbeing for their classroom students, for themselves, and for their mentor teachers in both in-person and virtual environments. They learned to be open to change as schools and school districts closed and reopened as local conditions changed and improved. As a result, veteran and novice teachers like Noyce Scholars and their students became more flexible in their use of technology and in their willingness to try things and troubleshoot them. Short-term flexibility and long-term structures in the form of: 1) policies, processes, and procedures; 2) communities of practice across institutions; and 3) a growth mindset are setting the foundation for engaging with technology in rural places like Appalachia.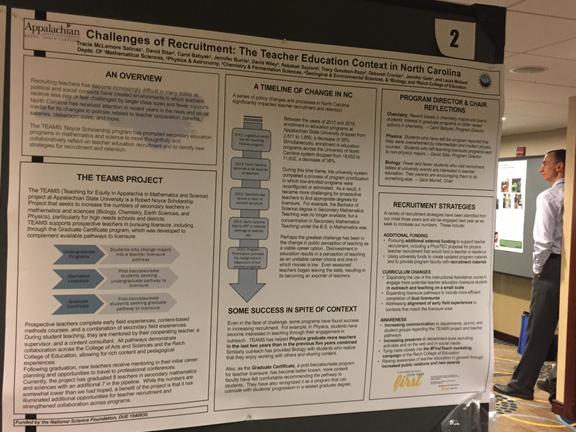 Tracie Salinas was the Principal Investigator of Appalachian State University's Noyce Track 1 Teaching for Equity in Appalachian Mathematics and Science (TEAMS) project (NSF Award No. 1540830). She is currently the Director of the Mathematics and Science Education Center at the university.
Appalachian State University launched TEAMS in 2015 to meet the high demand for qualified STEM middle and high school teachers in northwestern North Carolina. The TEAMS Project was designed to meet 3 goals in close alignment with the Noyce Program: 1) develop and implement a strategy for recruiting college students with STEM majors into teacher education, 2) support TEAMS Scholars through their graduate and licensure program, and 3) support TEAMS Scholars their early years of the profession. Over the five years of the grant, Appalachian State recruited and supported 22 Scholars through the program who had backgrounds in physics (N=7), biology (N=5), earth science (N=3), environmental science (N=3), mathematics (N=3), chemistry (N=1). To date, 13 of 22 TEAMS Scholars are still actively teaching in North Carolina, with three teachers teaching in their fourth consecutive year. They will be joined by four new graduating Noyce Scholars and a returning Scholar who is completing his MAT degree.
MN Associates, Inc. (MNA) is a woman owned, small, K-20 research and evaluation firm based in Northern Virginia with clients across the country. MNA is headed by Kavita Mittapalli, Ph.D. who is supported by a team of five researchers and evaluators. MNA was the TEAMS Noyce grant evaluator. To learn more about MNA, please visit www.mnassociatesinc.com or contact kavita@mnassociatesinc.com
Image