Project Spotlight: Curriculum and Community Enterprise for Restoration of a Keystone Species in New York Harbor
Principal Investigator Dr. Lauren B. Birney; Pace University New York City
(NSF EHR1839656, 1759006, 1440869)
What is unique about your work?
In New York City, there are numerous environmental issues that form the basis for inquiry-based science research by local students. Few are more fundamental than the question of human impact on our watershed. The Curriculum and Community Enterprise for Restoration Science (CCERS) project strives to establish an integrated and collaborative ecological restoration model that aims to provide underrepresented public-school students the opportunity to interact with their environment through inquiry, data collection, and experimentation. This project develops a replicable model for researchers, educators and students to engage with their physical environment. Since 2014, Pace University has been working with Billion Oyster Project, NYC Department of Education, City University of New York, and other partners to deliver programming to educators and students across New York City and beyond. Environmental restoration practices in New York Harbor support student STEM learning, promote STEM career possibilities in students from backgrounds that are historically underrepresented in STEM fields, and provide teachers, scientists, and researchers with unique opportunities for learning and community building.
Oyster Research Station training with educators from MS50 and community scientists. (Summer 2021)
What do you think is your most important learning in this area based on your project work to-date?
This project will advance efforts of the Innovative Technology Experiences for Students and Teachers (ITEST) program to promote practices that increase student motivations and capacities to pursue careers in fields of science, technology, engineering, or mathematics (STEM) by expanding and testing an innovative curriculum model anchored in place-based learning in students' localities. The curriculum model is organized around habitat restoration in New York Harbor and will engage students and teachers in activities that span the elementary, middle school, and high school grades of the nation's largest urban school system. The project focuses on important concepts in the environmental and biological sciences that typically receive inadequate attention in schools: watersheds and the roles of keystone species. This project builds on and extends the Billion Oyster Project's focus on oyster restoration through education. The project model includes several interrelated components, including: 1) community based restoration science hubs utilizing BOP field stations near New York Harbor; 2) the development of a near-peer mentoring program for public middle and high school students; 3) an elementary teacher professional learning program that focuses on restoration science; a student learning curriculum; and 4) advanced methods in restoration science for high school students that includes genetic barcoding (species ID), environmental DNA sampling and analysis, bacterial monitoring, and basic water chemistry analysis; and the continuing development of a web based digital platform for storing and disseminating project resources. These interrelated components make up the four project pillars. Watch our STEM for all video to learn more about our work to date. Additional videos can also be found on YouTube.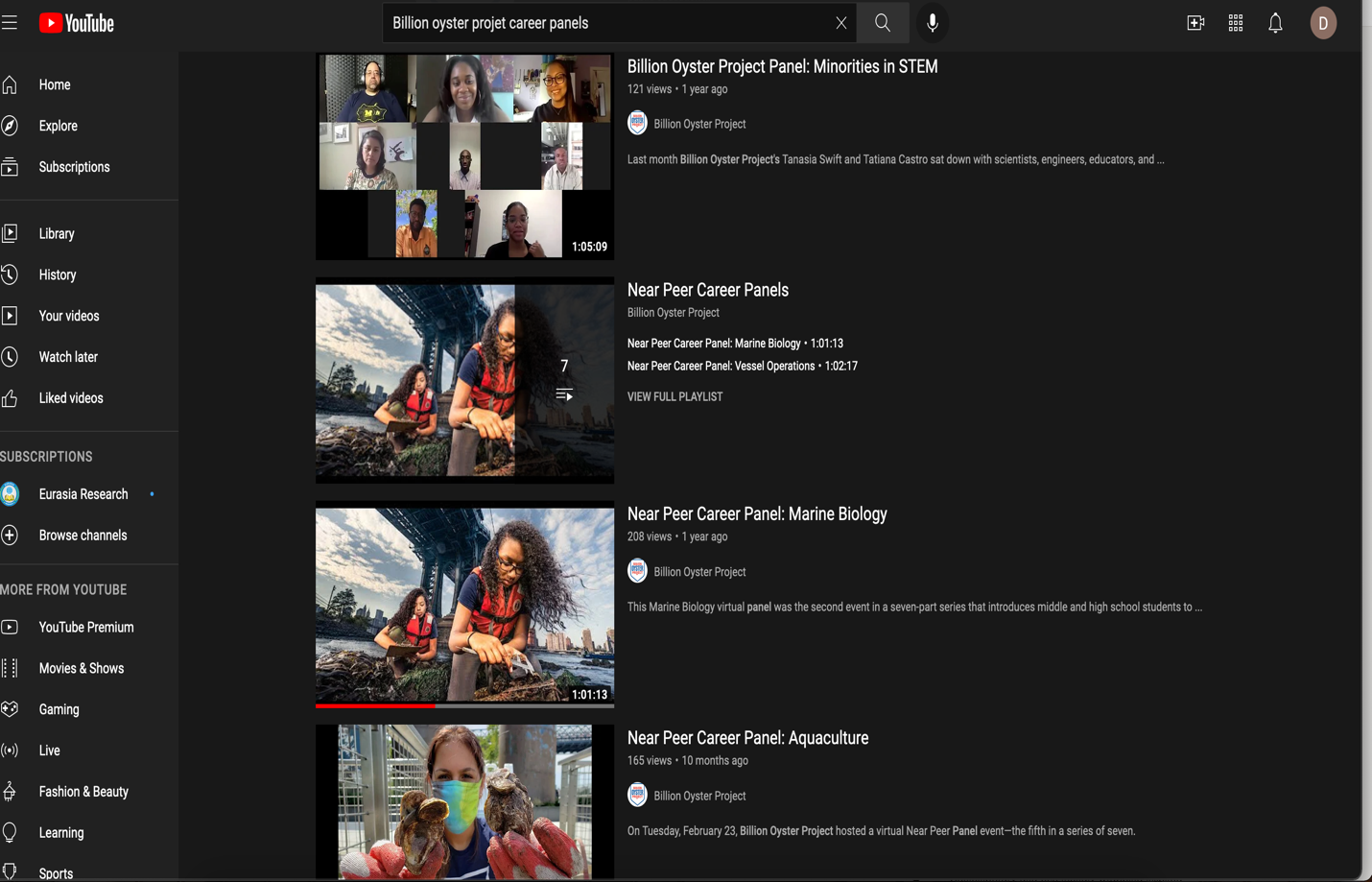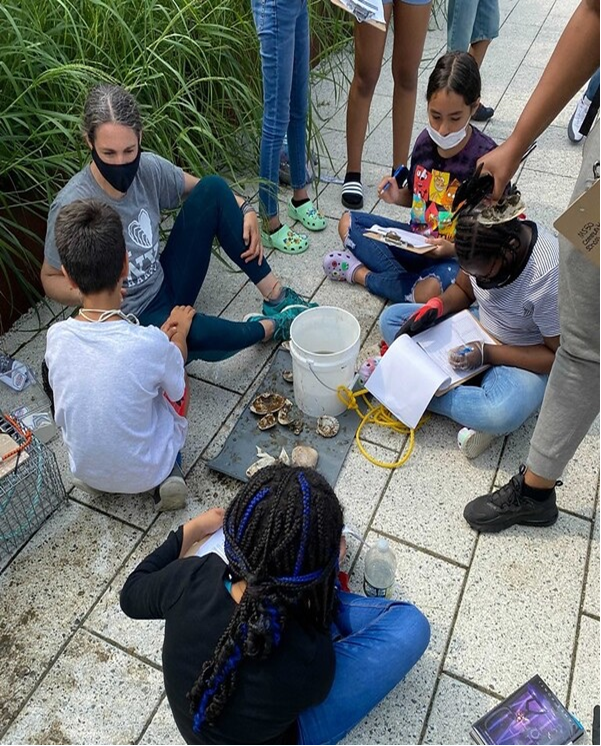 Oyster Research Station Monitoring with students from MS50. (Summer 2021)
Based on your experiences, what kinds of STEM experiences support student competency, motivation, and persistence?
CCERS focuses on STEM experiences that are locally relevant, inquiry based, and problem based to best support student competency and motivation. This project's near peer mentoring program has gone through tremendous changes since 2020 to accommodate changing needs of students and educators and has evolved to include a series of Career and Technical Education panels to supplement the seven career programs of New York Harbor School – Aquaculture, Marine Biology Research, Marine Policy and Advocacy, Marine Systems Technology, Ocean Engineering, Professional Diving, and Vessel Operations. The panels have been both well attended and well received by audiences, with a combined total of over 850 attendants for the seven panels for the 2020-2021 school year. The near peer mentoring aspect of the career panels makes this series unique – the moderator is an upperclassman speaking to an audience of middle school and 9th grade students, and the panelists are a mix of New York Harbor School upperclassmen, alumni, and industry professionals.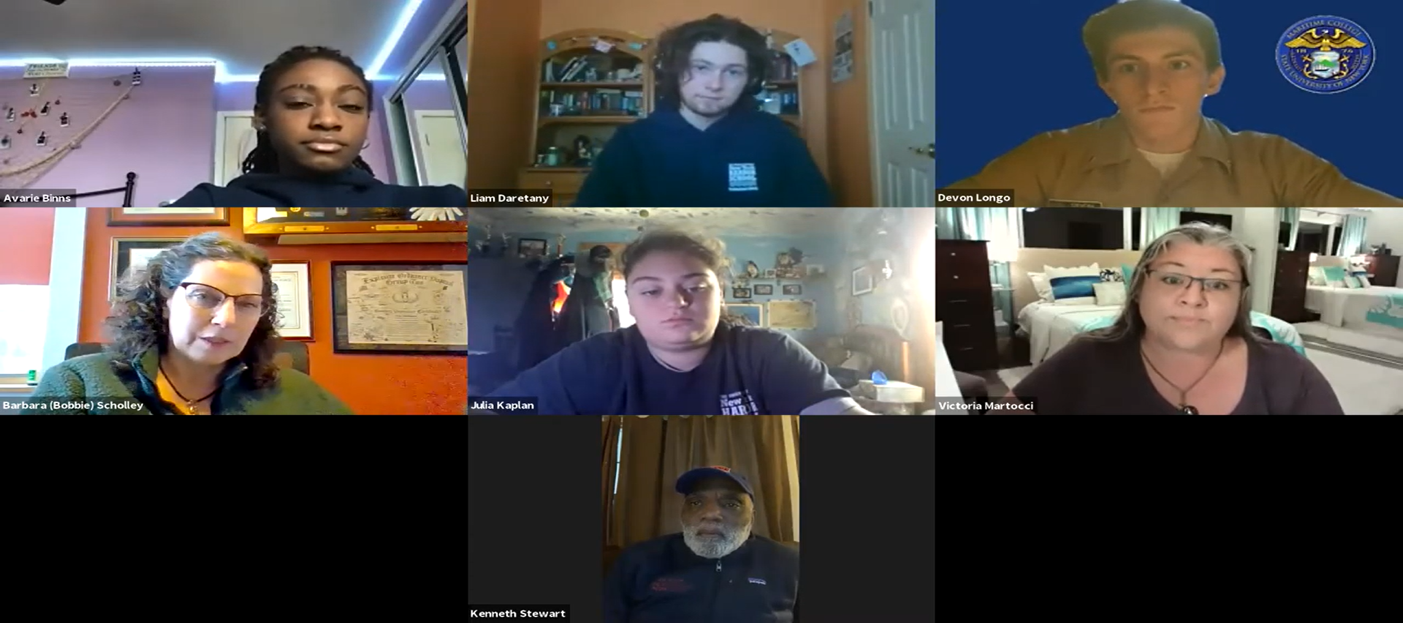 Professional diving near peer career panel. (Winter 2021)
What roles might business and industry play in motivating students to consider a future in STEM?
The near peer career panel demonstrates to students that careers in STEM are incremental, and in some case panelists have come from varied backgrounds to the marine career they are currently engaged in. We have been intentional in choosing panelists from a wide range of career experiences and lengths to show students what their careers could look like at a variety of stages. By hearing from other students as well as professionals firsthand, students can better understand the critical roles STEM careers play in our society. Students are provided the opportunity to engage in Q&A sessions with the panelists to ask questions based on their own experiences, interests, and curiosities. Continuing to secure long- term STEM Industry partnerships continues to be a focus of our research and long-term strategic plan.
What strategies have you found most effective and productive to broadening participation by engaging diverse underrepresented populations in STEM programs and careers?
One of the tools we are developing to better cater to wide audiences is a digital platform where educators and community scientists can log in to contribute oyster measurement and water quality data to a community supported database, download curricula and lesson plans, find more information about field opportunities in New York Harbor, and participate in Billion Oyster Project's annual Symposium. It has also been important to partner with local community-based organizations to best reach wide audiences. For example, as part of the near peer mentoring pillar, we partner with RETI Center to provide mentoring programs between high school students and elementary school mentees at RETI Center's Red Hook Learning Barge. Look through the Billion Oyster Project's photo album.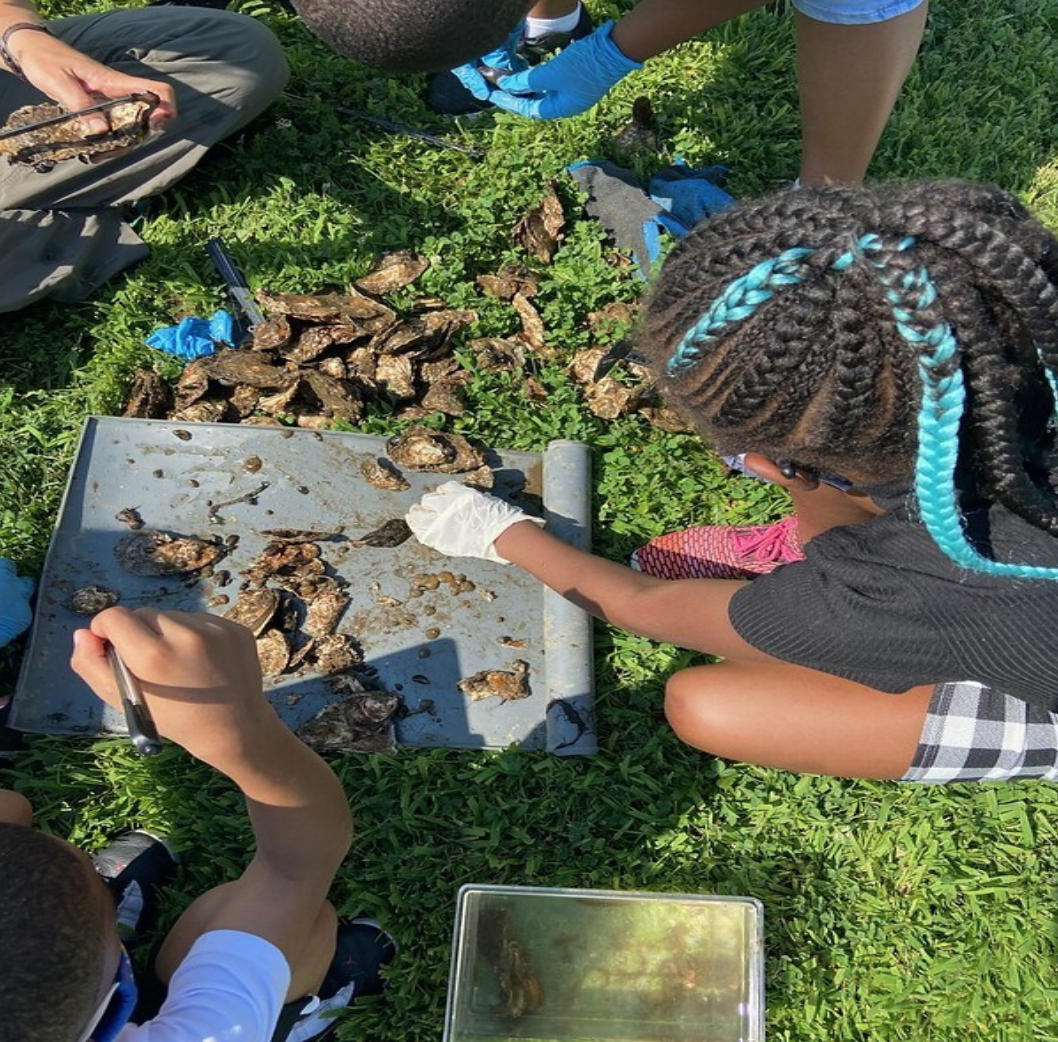 Students from PS 676 get their hands dirty and measure oyster growth! (Summer 2021)
Image