Project Spotlight: Morehouse College's iSTEM-Xe Program
Morehouse College iSTEM-Xe is an academic program designed for grades 6-8 that offers a rigorous, stimulating curriculum of project- and inquiry-based learning activities that explore principles related to STEM education and careers.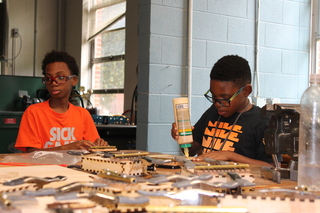 What strategies have you found most effective and productive to broadening participation by engaging diverse underrepresented populations in STEM programs and careers? 
The iSTEM-Xe innovation component is student centered and emphasizes science and math relevance, a concrete to abstract approach, problem-solving, and innovation skill development. Engaging students in a culturally relevant curriculum has proven beneficial for students in our program. As a program with a mission to increase knowledge, awareness, and participation of Black students in STEM careers, we have found the following strategies to be helpful: Utilizing a project-based framework with a culturally responsive approach to teaching STEM topics; providing students with resources to spark innovative ideas to solve real-world problems that are present in their communities; incorporating Black professionals representation from various STEM disciplines through career panels, workshops, and keynotes; embarking on in-state and out-of-state enrichment trips; and highlighting the historical and contemporary advancements of STEM from changemakers who look like our students.  In addition, involving Black undergraduate and industry leaders to speak to our students encourages them to pursue degrees and careers in STEM.  It is important to validate student experiences while exposing them to new innovative STEM disciplines.   
Based on your experiences, what kinds of STEM experiences support student competency, motivation and persistence?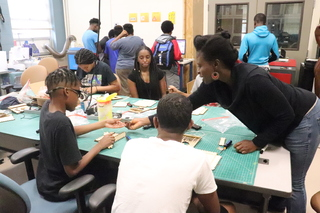 Involving the students in collaborative hands-on simulations keeps students' interests and teaches them the fundamentals of working on cross-functional teams.  Working on their projects provides opportunities to develop critical thinking and communication skills needed for entering STEM workforce sectors.  Students were able to engage in critical thinking such as brainstorming on projects, gathering pertinent background information, drafting hypothesis, discussing pros and cons of potential solutions, reviewing and including new background information, finalizing hypothesis, and concluding on best potential solutions as they worked on their projects.  iSTEM-Xe of Morehouse College provides Black students with Science, Technology, Engineering, and Mathematics (STEM) challenging learning experiences that increase students' exposure to innovation and creativity in the STEM disciplines. This project addresses these potential educational needs for Black students at a critical stage of their educational development by having students begin the program in grades 6-8 and supports their development for a three (3) year period.  Some highlights include: Students reported high levels of STEM self-efficacy in Science, Math, Technology, Problem Solving and Innovation; high confidence in working and leading a research team; high interest in skill sets important to STEM careers; and high interest in STEM careers such as scientist, mathematician, and engineer.
What roles might business and industry play in motivating students to consider a future in STEM? 
In our commitment to produce the next generation of Black STEM leaders, we value the contribution of business and industry. Black business leaders participate in the Summer Academy where they share both the industry they work in and their life story including their pathway to success. In addition, we utilize aspects of business, such as the business model and marketing strategy, to spark innovative thinking that will help our future leaders solve real-world problems of tomorrow. Our students are able to understand how STEM enhances the major brands and products they consume.  Strategic collaborations between education and industry affirm and validate our STEM students' original career aspirations as attainable and provide insight into additional STEM careers that they might not have otherwise considered.   
How have you engaged parents, mentors and caregivers to increase awareness of STEM and support student understanding of the ubiquity of STEM? 
Our program increases parental awareness of STEM through their participation in workshops, various enrichment trips, and STEAM activities. Workshops have been provided for parents on topics such as computer literacy, early college credit attainment, and mechanisms to support their children's wellbeing. In addition, we invite the parents to engage with their children for panel discussions with Black industry leaders, entrepreneurs, and researchers across STEM disciplines. We also actively engage with our parents through educational technology tools, such as Schoology and ClassDojo to share STEM, academic, and program specific resources. To show our students the prevalence of STEM, we are intentional about introducing students to the less explored areas of STEM, such as gaming, nutrition, and sustainable resources.   
What instructional and curricular models can effectively engage teachers to use technologies to enhance student understanding of STEM and related careers? 
The working team for this project is composed of Morehouse faculty from STEM departments, the Center for Teacher Preparation and Leadership center, along with an Academic Advisor Specialist and 6-12th grade STEM faculty.  This group meets two to three times per month. They developed the curriculum for the iSTEM-Xe program that takes into consideration the pre-college faculty understanding of their students' current competencies as well as the Morehouse faculty understanding of the students' competencies that are critical for success in STEM careers.  The program provides technology-rich experiences that develop discipline-based knowledge and practices through student engagement with the Morehouse College Maker Space.  The Morehouse College Maker Space is a cooperative labratory workspace where students and faculty can construct objects, conduct research, collaborate, and gain practical hands-on experience with new technologies while engaging in applied learning.  Engaging with the Maker Space also increased student exposure to innovation and creativity in STEM disciplines.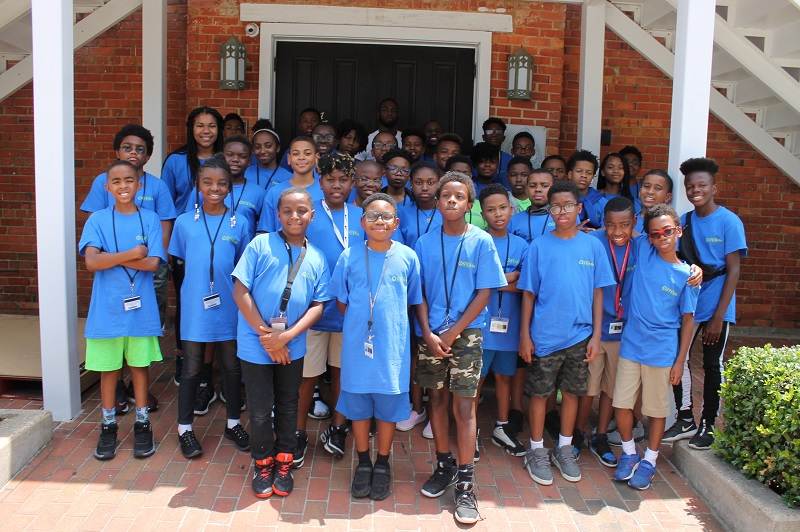 For more on Morehouse's iSTEM-Xe project, watch their Facilitator's Choice award-winning 2020 STEM for all Video Showcase entry!
https://stemforall2020.videohall.com/presentations/1778
Image