Project Spotlight: Promoting Robotic Design and Entrepreneurship Experiences among Students and Teachers
As part of our series exploring the work of ITEST projects over the summer months, STELAR connected with Prinicipal Investigator Vikram Kapila of New York University's Tandon School of Engineering on his project, "Promoting Robotic Design and Entrepreneurship Experiences among Students and Teachers." 
How did your ITEST project impact youth this summer? 
Our ITEST project provided hands-on learning opportunities to youth using authentic tools and technologies such as mechanical, electrical, electronics, sensing, and computing components to design, prototype, operate, and test robots. The project activities allowed the youth to connect their classroom math and science learning to the real-world while engaging in building and programming mobile robots to perform assigned tasks.  
In these ways, the youth gained first-hand experience in engineering, engineering design, and the iterative processes involved in creating devices to perform specific tasks within given parameters. Moreover, they learned skills of problem solving, perseverance, and self-directed learning and developed a keen interest in STEM fields. The activities involved brainstorming and as the youth worked in groups for these activities they became better team players.  
What strategies have been most effective for engaging youth in a summer program? 
Lacking any prior exposure to robotics, many youth began the summer program unsure, feeling somewhat intimidated. However, youth engagement was supported through teamwork. For example, the youth found that working with their teachers on hands-on, real-world projects created a compelling learning environment. They found that having peers who had robotics background and interactions with project mentors (undergraduate and graduate engineering students) allowed them to seek clarifications instead of feeling lost.  
The youth were eager to complete their tasks because they felt a sense of accomplishment. Since they enjoyed working with the robots, they stayed engaged most of the time. We framed the summer program as an opportunity to learn new skills and technologies, experience a higher education learning environment, and work with their teachers in unusual/unique ways; that is, learning together as opposed to the typical, school-year pedagogical approach. 
What lesson have you learned through your work with youth this summer? Any tips you can share with other ITEST projects?  
While the youth and their teachers possess a diversity of expertise, it is of paramount importance to integrate guided, hands-on training in robotics fundamentals that progressively leads to advanced design and programming challenges. Creating an immersive learning environment where academic and hands-on learning is carefully balanced keeps participants gainfully engaged, as does the integration of STEM content areas inherent in the study of robotics (mechanical, electrical, and computing disciplines). Collaboration between teachers and youth and between participants of varied abilities is also beneficial. Finally, it is critical to pilot test summer activities and materials with a small cohort of youth prior to the full roll out. 
 What excites you most about the work you do every day? 
Each day brings news stories about the changing nature of workplaces and how a technologically savvy workforce will be critical to maintain the vibrancy of the US economy. Being able to engage with high school teachers and youth to expose them to robotics and entrepreneurship is thus quite exciting and rewarding. It allows the possibility that these youth can transition from being mere consumers of technology to becoming technology creators. It is also gratifying to observe that when youth demonstrate that they are learning a concept, their teachers come to understand both the potential of integrating robotics in their teaching and that their students have the ability to learn/engage in advanced STEM content.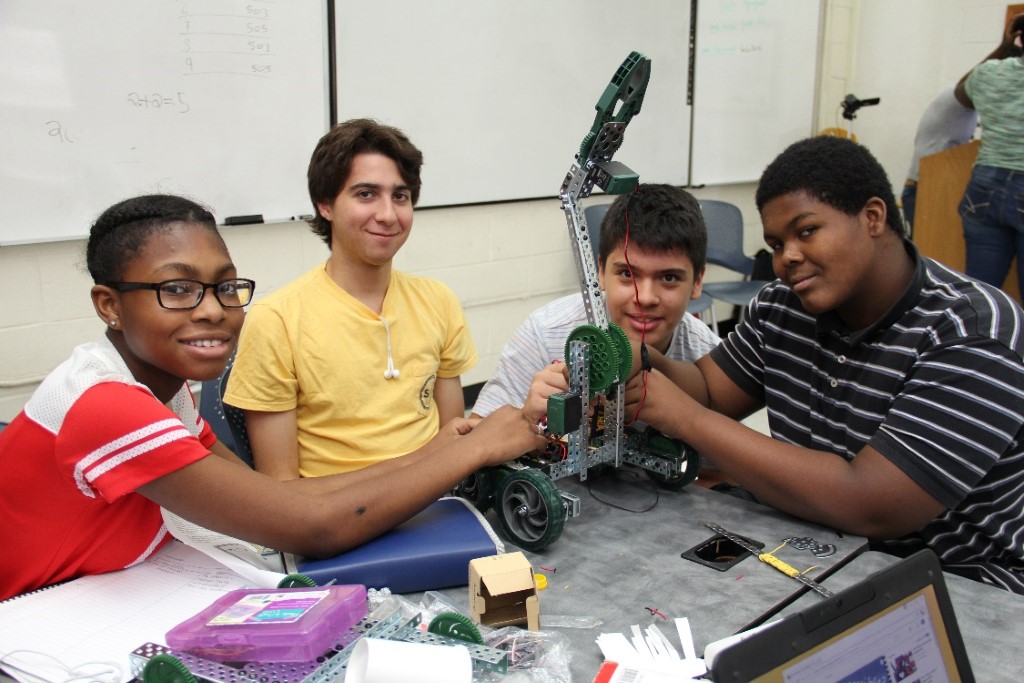 Read more about this project's work on the NYU website: http://engineering.nyu.edu/news/2017/08/16/teachers-students-expand-their-robotics-skills-together-new-k-12-stem-program 
Image