Massachusetts STEM Summit 2021
DESCRIPTION
Join the Massachusetts STEM Summit virtually on Thursday, May 6, 2021 from 9:00 a.m. - 2:00 p.m. for the Virtual 2021 Massachusetts STEM Summit, Inspire a STEM Start.
Please join us for live panel discussions on exciting STEM topics, browse our OnDemand content and toolkits, and engage with STEM leaders in your community. Throughout the day, you will have the opportunity to hear inspiring perspectives and stories from individuals across the Commonwealth who have persevered through the past year, while continuing to promote STEM opportunities. View the agenda (more details will be finalized soon).
The annual STEM Summit is co-sponsored by the Massachusetts STEM Advisory Council, the Massachusetts Business Roundtable and the University of Massachusetts Donahue Institute. 
We hope you can join us to reflect on how the STEM workforce has led us through a challenging year, and on the pivotal role STEM plays in the future of the workforce in Massachusetts.
In order to make this event as equitable and accessible as possible, the event will be free for all participants.
Share your STEM Story on social media using the hashtag  #MASTEMSummit
Image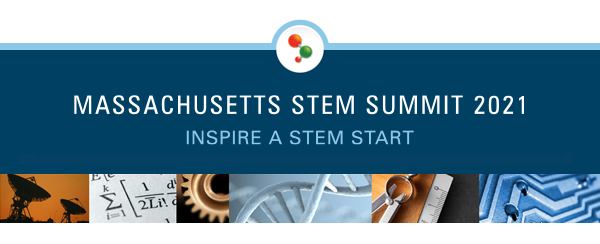 EVENT DETAILS
Topic(s)
Cultural Relevance, Equity, and Diversity