NSF ITEST Program Online Workshop for EPSCoR Jurisdictions
DESCRIPTION
Join STELAR on September 27 & 28 as we host National Science Foundation (NSF) Program Officers for an informational workshop designed to highlight the NSF funding opportunities for STEM education research at the PreK-12 level!    
This event is intended to raise awareness and increase the geographic diversity of the ITEST portfolio. As space is limited, priority will be given to registrants located within EPSCoR Jurisdictions.
During this event, NSF Program Officers will introduce the Innovative Technology Experiences for Students and Teachers (ITEST) funding program. This online workshop provides attendees the opportunity to ask questions and discuss proposal concepts directly with NSF program officers. An optional second day of training led by STELAR will focus on developing competitive ITEST proposals.    
Structure of the Workshop: This online workshop is designed to raise awareness and support those new to the ITEST program, specifically those located within EPSCoR Jurisdictions. It will consist of two days of programming:   
Day 1: Wednesday, September 27, 11 am – 3 pm ET 
This half-day session will feature informational presentations by NSF program officers representing ITEST. Attendees will learn about NSF's goals and priorities and important program details. After a lunch break, attendees will be placed into smaller networking groups based on their identified needs. There they can collaborate on ideas and formulate questions for NSF Program Officers. Lastly, we will reconvene for an interactive Q&A segment with Program Officers.  
Day 2: Thursday, September 28, 11 am – 3 pm ET 
This half-day session will focus on the ITEST program proposal development process. Attendees will learn about NSF and STELAR resources designed to support the development of a competitive ITEST proposal. NSF program officers will be available to review initial concepts and address proposal-specific questions in preparation for the August 2024 solicitation.  See below for instructions on how to share this information in advance. 
Registration details:
Registration for the event will include the option of selecting day one, day two, or both sessions. Although not required, we encourage day two attendees to bring their proposal ideas and/or submit a 1–2-page proposal concept paper to drlitest@nsf.gov in advance. All submissions to NSF are fully confidential. To allow proper review time, submissions must be sent to NSF by EOD on Friday, September 22.
While this event is open to the public, priority will be given to EPSCoR Jurisdictions. 
Registration can be completed at the link below and will remain open through Tuesday, September 26.  
Image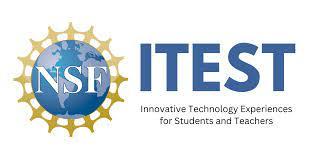 EVENT DETAILS
Additional Information
About NSF's ITEST Program: The National Science Foundation's Innovative Technology Experiences for Students and Teachers (ITEST) Program supports applied research and development projects focused on increasing preK-12 students' interest in information and communication technology and STEM careers through innovative technology-based learning experiences.   ITEST is responsive to societal needs and emerging areas of STEM and related careers. Emerging critical areas include, but not limited to, artificial intelligence, blockchain, cybersecurity, data science, environmental science, quantum information science and engineering, semiconductors and microelectronics, etc. 
STELAR functions as the resource center for the NSF ITEST program, supporting both grantees and those interested in developing an ITEST proposal. We provide in-person workshops, online proposal resources, and a self-paced proposal development course. Workshop participants will have access to online follow-up events supporting their proposal writing between now and August 2024.