2021 STEM for All Video Showcase
DESCRIPTION
The 2021 STEM for All Video Showcase: COVID, Equity & Social Justice will be held May 11-18, 2021. We welcome all videos that address this theme or any of the following subthemes:
     Projects & partnerships addressing broadening participation
     Impacts of COVID on STEM teaching and learning
     Design and implementation of STEM and CS programs
     Research informing STEM and CS teaching and learning
     Measuring impact of innovative programs
Register to submit a video presentation: http://stemforall2021.videohall.com
Timeline:
January 15th – February 12th: Registration. Register your intent to present a video. Registration is mandatory and it takes just a few minutes. You can find the link on the Homepage.
January 26th at 3:00 PM ET: Webinar. Our team videographer, Jim Galdos will be providing a webinar to help you rethink how to creatively put together a video during COVID. Sign up now.
March 2nd– April 21st: Video Submission. Submit your video (less than 3 minutes in length) and presentation information through the site's Homepage.  
May 11th – 18th: Interactive Video Showcase. Thousands of participants will view the videos, partake in online discussions, and vote for their favorites.
This year's theme is STEM for All: COVID, Equity & Social Justice. Videos should address at least one of the following subthemes: 
Image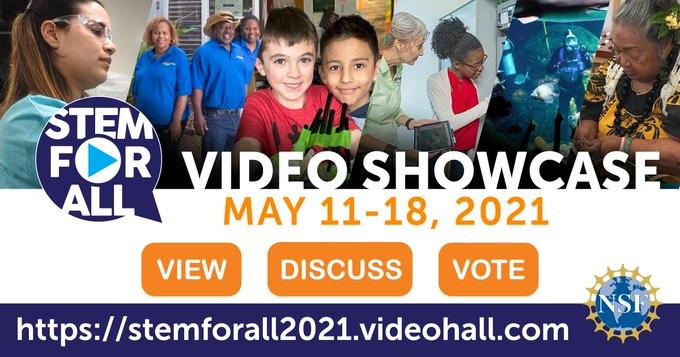 EVENT DETAILS
Topic(s)
Accessibility
Cultural Relevance, Equity, and Diversity
Youth Motivation and Interests in STEM
Additional Information
More information to be announced in January!