STELAR Webinar: Digital Badging in ITEST Projects
DESCRIPTION
On Tuesday, March 28, STELAR explored the use of digital badges in two ITEST projects.
Like traditional merit badges, digital badges are earned by learning new skills, but unlike their embroidered counterparts, each digital badge contains an electronic record of the specific competencies that have been mastered. Digital badges are an exciting way to motivate and engage participants, accurately measure progress, and channel enthusiasm for learning new technologies. Especially useful for out-of-school programs, digital badges are an innovative way to deliver curriculum modules, for both instructors and students! 
During this webinar two ITEST projects explained their digital badging processes, and how they plan to employ badges in their project work. Speakers included:  
Kids as Urban Scientists: Mapping the Biodiversity of the Philadelphia Promise Zone
Project Co-PI Winifred Black of the Pennsylvania Statewide Afterschool/Youth Development Network (PSAYDN) - Project Accelerate shared how they established a working group for colleges, schools and non-profits who were using badges in their programs and services. PSAYDN has been designing a career exploration/development curriculum in conjunction with a hands-on science curriculum, with teachers, staff and students earning badges for their achievements. 
Andy Stutzman, Senior Technical Architect at Drexel University, discussed the Digital On-Ramps (DOR) program at Drexel University, which is using digital badges to track learning experiences for youth and adults. Through the NSF funded Kids as Urban Scientists grant, Drexel is working with several partners to provide a middle school science curriculum that will include activities linked to digital badges that students will earn along the way. Badges will also be included as part of the professional development provided to the teachers using the new curriculum. 
Investigating Digital Badges as Alternative Credentials to Broaden STEM Participation Among Underrepresented Youth
Project PI James Diamond, Senior Research Associate in the Center for Children & Technology at Education Development Center, discussed the potential for digital badge systems to become alternative credentialing methods. His project will investigate whether a group of 11th-grade students who engage in activities for building a "digital badge portfolio" will persist in ICT-related higher education and employment pursuits, and envision themselves in those careers in the near future. The project is also documenting the processes by which multiple stakeholders come together to form a "badge ecosystem."
Shared resources: see links section at right
Webinar recording: 
Image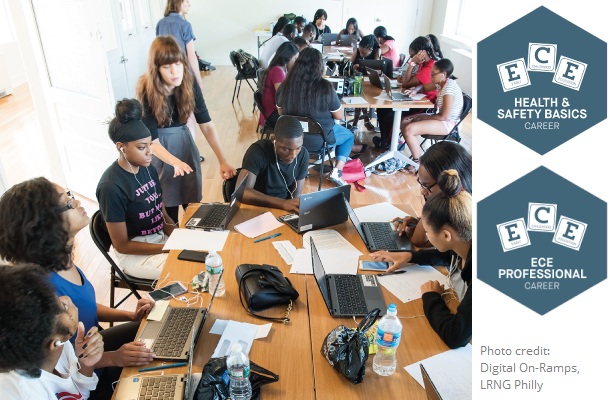 EVENT DETAILS
Additional Disciplines
Bioscience - general
Computer Science - general
Engineering - general
Environmental Science - general
Topic(s)
Informal Learning and Afterschool
STEM Content and Standards
Teacher Professional Development and Pedagogy
Youth Motivation and Interests in STEM