STEM for All Multiplex - Indigenous Ways of Learning
DESCRIPTION
This Theme of the Month and expert panel webinar will highlight processes involved in Indigenous ways of learning — learning by collaboration, making a difference/giving back, intergenerational connection, responsibility, and respect. Three teams that study learning and how to foster it in Indigenous communities discuss what can be learned from Indigenous ways of learning, for Indigenous peoples and the world at large.
Read the New Introductory Blog! click here
This month's webinar will be moderated by Barbara Rogoff Foundation Distinguished Professor of Psychology at UC Santa Cruz.
Panelists include:
Dr. Zoe Higheagle Strong
Dr. Tiffany Smith
Nuria Jaumot-Pascual
Andrew Dayton
For more information or to read the moderator and panelists full bios: https://multiplex.videohall.com/month_themes/22
October 19, 2022 at 3:00 pm ET
Image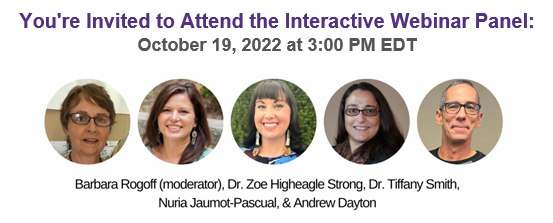 EVENT DETAILS
Topic(s)
Cultural Relevance, Equity, and Diversity