2022 NSF ITEST PI Meeting
DESCRIPTION
Save the date for the 2022 Annual ITEST Principal Investigator Meeting: November 1–3 from 12–4 pm ET
On behalf of the Nation Science Foundation, the STELAR Center is pleased to announce the 2022 ITEST Principal Investigator and Evaluator Meeting, to be held online Tuesday, November 1 through Thursday, November 3 from 12-4 pm ET.  
The 2022 PI meeting will be a thematic working meeting focused on field building and experience sharing. Projects will be asked to come prepared to share their ongoing/formative experiences about their incomplete work. During the meeting projects will engage in sharing and reflection around the meeting themes listed below, with the goal of gathering input, getting unstuck, collecting insights, and receiving advice. Projects will be asked to reflect on and identify best practices and share how they will incorporate this guidance to strengthen their current project work. Throughout the meeting STELAR will capture these lessons, with the goal of producing a set of guidelines, lessons learned, and "dos and don'ts" from the community. 
Discussions will be held around the below set of themes, with one or two themes featured on each day during each of the three half-days. The STELAR Center will gather ITEST project feedback on the meeting structure and themes in the coming weeks to collect information to inform our planning. 
Please view our online program for event details and updates.
Image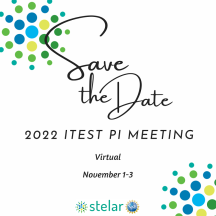 EVENT DETAILS