ITEST Data Brief: ITEST Projects Funded in 2015
Description
ITEST Data Brief Volume 3, Issue 2, July 2016
In 2015, 30 ITEST projects were awarded funding. STELAR surveyed these projects as part of the the Fall 2015 Management Information System (MIS) Survey and received a 97% completion rate. This data brief presents information from the 29 responding projects around the following questions:  
Which of the 7 ITEST Guiding Questions do projects choose to address?
In what settings projects plan to conduct their work?
What grade levels do projects serve?
Who are included as project participants?
In what locales do projects coduct their work? 
In what states are ITEST projects active?
Read this data brief and more in the STELAR Materials section of our website under "Management Information System (MIS) Reports."
Image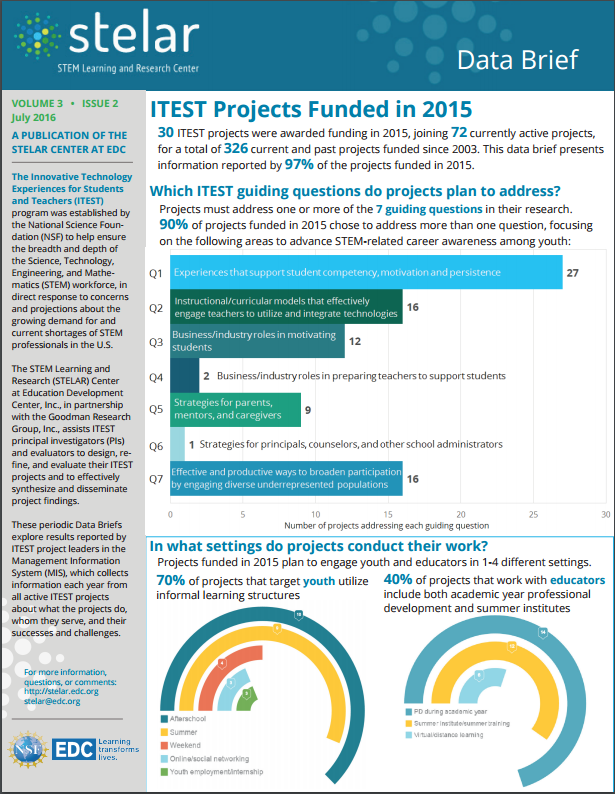 Author and publisher information is provided below. Note that many publishers charge a fee or membership for full access. Permission/access must be requested through the publisher or author directly.
PUBLICATION DETAILS
Topic(s)
Accessibility
Cultural Relevance, Equity, and Diversity
Informal Learning and Afterschool
STEM Career Opportunities and Workforce Development
Teacher Professional Development and Pedagogy
Youth Motivation and Interests in STEM
Additional Disciplines
Bioscience - general
Computer Science - general
Engineering - general
Environmental Science - general
Mathematics - general